Sometimes your credit score is lower than you deserve. You work hard, you pay most of your bills on time, but when you try to get a mortgage or a car loan, suddenly you find out that your interest rate is higher than what was advertised, or worse, that your loan is denied. It doesn't seem fair that so much of life's enjoyment depends on a number!
U.S. Credit Defense is here to help.
We are Experts In Debt Resolution.
No matter what the reason: loss of job, loss of income, unexpected medical bills, costly divorce, or any other reason- there is no need to panic.
US Credit Defense could be all you need to get the help you want with your credit card debt and start your debt-free journey.
We get to work negotiating with your creditors on your behalf to drastically reduce your total debt.
There is no better feeling than living a debt-free life, and we take pride in giving people the opportunity to improve their financial futures.
Here's what some of U.S. Credit
Defense's clients are saying:
I wanted share my experience with US Credit Defense it was great. They are very professional helped me established my credit again. I could not even think of applying for a credit card after they started working on my credit history I was able to start establishing credit once again..
Eddie Caram
I could not be more satisfied with the service that they have provided to me not only has my credit score gone completely up. Their customer service is amazing the portal is self-explanatory and just perfect . I'm taking the time to write this review due to the fact that I am the number one person to read reviews before going into any store or purchasing anything from anyone .
Yasmary Mena
US Credit Defense has done an amazing job in restoring my credit health! When I went to Jessica, my credit was in the low 600s due to being laid off from my job. I had 3 pages long of negative items and now my credit is 730 with zero reports. I am ecstatic!!!!!
Rebeca Orozco
US Credit Defense did an outstanding job. They fought a debt collector that ruined my credit without properly notifying me. Jessica and her team knew how to gain leverage over the debt collector and once they realized that Jessica had them in a no win situation they immediately removed the bad mark on my credit report and my credit rating went up over 100 points. Additionally she was able to lower my debt. I highly recommend U.S credit defense if you need to repair your credit.
Christopher Gonzalez
A very professional company. Delivers 100% of the time on their promises. A breathe of fresh air to finally find a credit repair and defense company that actually understands the complexities of credit and applicable laws.
. LONGHINI
Stonewall Mortgage Bankers, Inc.
A very professional and pleasant to work with. Jessica knows her business very well.
Yulia Coleman

1
Send us your credit reports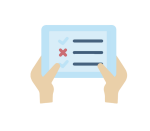 3
We lead the dispute process

4
Relax and watch your credit score rise
Our goal is to improve your credit report by removing negative items deemed to be inaccurate, unverifiable and/or untimely. Damages may include:
BANKRUPTCIES • FORECLOSURES • LIENS • LATE PAYMENTS • JUDGEMENTS
COLLECTIONS • CHARGE OFFS • GARNISHMENTS • REPOSSESSIONS • PARTIAL PAYMENTS
U.S Credit Defense is a Miami Credit Repair group who assists our clients in deleting and/or repairing derogatory items on their credit report that are not accurate, verifiable and/or timely. Using our time tested system; our clients have successfully saved thousands of dollars through the refinancing of their homes, auto loans, credit card and other consumer and business debt. As a credit repair group in Miami, we've been able to help hundreds of people restore their credit scores.
Established in 2010, U.S. Credit Defense is located in Coral Gables, Florida and services clients throughout the United States. U.S. Credit Defense engages in a hands-on approach through innovative credit repair solutions and tactics after derogatory items have already appeared on your credit report as well as providing educational materials and tools, which may prevent future derogatory items from appearing. Our goal is to empower you through knowledge and training to take control of your financial health.
We go the extra mile to help you achieve your financial freedom.
DO-IT-YOURSELF CREDIT REPAIR KIT
plus a free credit consultation